During an approximately 90 minute training, Real Estate Expert, Cameron Dunlap presents a very special Deal Maker Webinar. This Goal Setting Workshop is designed with one thing in mind – getting you focused and on track to make more money… Watch this free replay now!

From the desk of:

Cameron Dunlap
Real Estate Entrepreneur since 1993
Nationally Known Real Estate Expert & Trainer Since 1995

Do want to achieve more in your personal life and in your business? Do you set goals for yourself? How do you plan to achieve them? Will you be motivated and follow through? Will the people around you stand in your way? How do other people become successful? What do they do differently?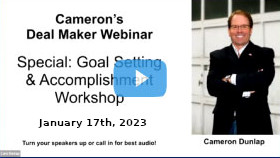 I'll address each of these in this training.
This webinar is pure motivational content that you won't want to miss. I suggest you also invite your friends, business partners and anyone else you can think of who may benefit from this powerful FREE training.
Remember, this is a content webinar designed to get you focused and knowing exactly what to do to make this a record year.
I plan on this being my best year ever – come along with me and make it your best ever too!
Watch this free training NOW!
Best regards,